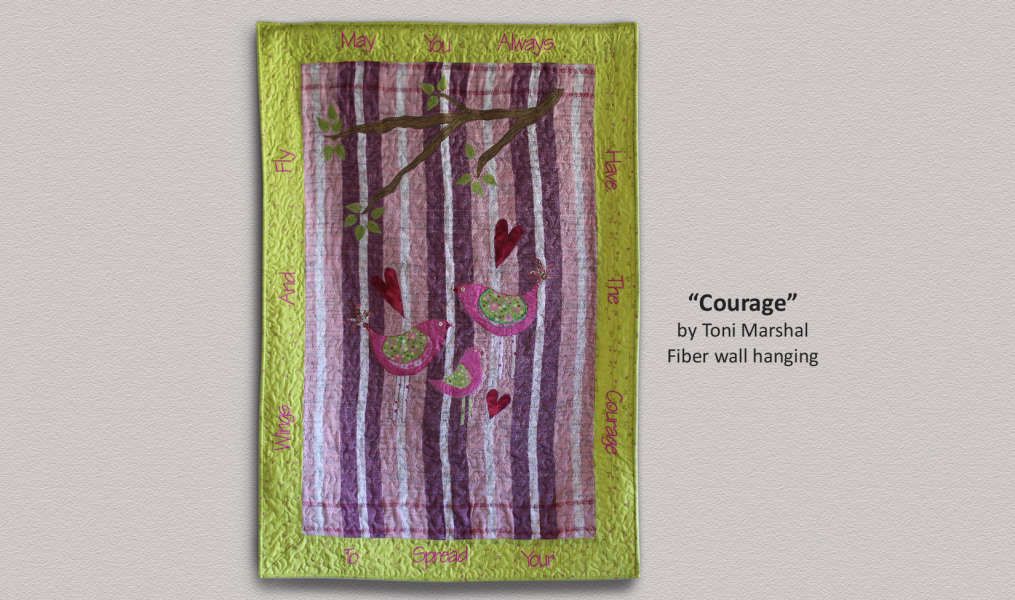 Toni Marshall
I have been an artist, creator, and maker my entire life. Originally I did mixed media work with acrylics, and collage always using old ephemera and beeswax in conjunction with my painting.

Having been raised by a tribe of women who were in there own right masters of design, seamstresses, stitchers, knitters, lacemakers, and floral designers I wanted to honor their influence in my life. I moved to the mountains of western North Carolina in 2011 to pursue a lifelong passion for fiber arts and at the ripe age of 58, I enrolled in a Professional Crafts Fiber Arts Program and learned to weave.

In fiber arts I have truly fund my niche. My textiles, whether functional or artistic, always reflect atmospheres, energies, and moods teaming with humanness, frivolity, and the patina of life. I'm least concerned with creating beautiful things and most concerned with evoking emotion, creating experiences, and connecting to the Human Spirit!

The feel of the fibers, a handwoven textile, the textures and colors all inspire my creations as each piece forms a bridge across time, people, places and cultures resulting in an expression of my unique artistic vision. Each piece begins with an idea or concept that evolves as I progress through my artistic process. As I add layers, some details are obscured, some are accentuated, some are embellished, and new ones simply appear. The successive layers of my process are refined and eventually articulate the voice of the piece resulting in a multi-dimensional work of depth and dimension with bold design and fine detail. Like the world around us, my art is a multi-layered study of color, pattern, light and texture.

I am so proud to be a part of the Womanmade Tri-City Exhibit which honors the work of women in the arts throughout the state. I have a Fiber Collage in Leesburg called "Amidst the Fibers," a Handwoven & Handstitched wall piece of Tribal Cloth in Mt. Dora where I used many different types of fibers to create the cloth, and a Handwoven and Appliqued and Quilted Wall Hanging called "Courage" in Tavares. You can find my work and studio at Uncommon on Sixth, 103 S. 6th Street in Leesburg along with the work of 18 other local artists.